I'm not one to apologize for long absences due to shifts in priorities. Now that my semester at school has started and I'm falling into something resembling a routine, I'm going to bear myself ceaselessly into the past and cover what I've read since I last posted.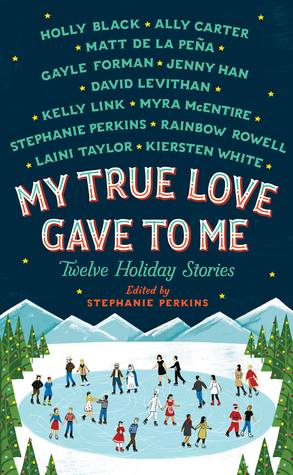 My True Love Gave to Me (a collection of short stories from young-adult powerhouse authors)
My True Love Gave to Me is a charming set of young adult romance stories, taking a variety of voices and approaches to the genre. It's hard to pick a stand-out piece from the set because they are all really that good. It's the perfect book to read with a cozy blanket and a cup of hot chocolate, as the uniting factor (aside from romance) is that all the stories take place during the holiday season, and capture the mood of it so very well. My True Love Gave to Me is a good match for readers who are well versed in their young-adult lit, as well as those who don't have much knowledge of it and are expanding their bounds. I loved the diversity aspect of this collection. Taken as a group, the stories including a range of gender, race, ethnicity, and class representation. I have already read or heard of most of these authors, so I had a basic idea of what to expect from this book. On top of that, some of my favorite authors contributed to this collection, so it was a serendipitous match for me. This book was on my holiday wishlist, and when I received it on New Year's Eve, I devoured the stories like so much holiday fruitcake (Using that purely metaphorically makes me wonder, do people still eat fruitcake?). What I was not expecting was the wide range of genres throughout the twelve stories! It was amazing to transition from a realistic fiction piece, to a magic realism/classic fantasy piece. This allows an entrypoint into those genres for people who would not normally stop to dip their toes in that water. For years, I'd been wanting to read Holly Black, but every time I would scan the back cover of one of her books, I felt immediately out of place. I don't read much fantasy novels. Not out of disinterest, but mostly due to the mounting stack of contemporary fictions or classics that I call my to-read pile. Years of that attitude have conditioned me against reading fantasy, despite feeling guilty for ostracizing such a large part of the literary world. Well, this book changed that. I now feel equipped to read authors like Holly Black and Laini Taylor. All in all, a very good collection that Stephanie Perkins should be proud of.
Bonus: Story about NY! My city loving heart was pounding in rhythm with the words.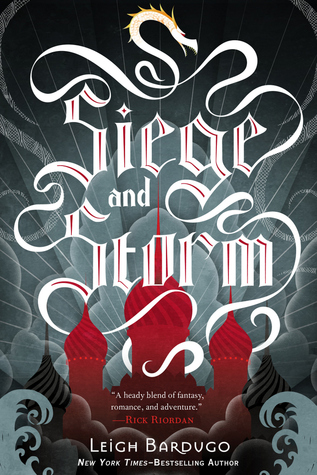 Siege and Storm by Leigh Bardugo
Let me start out by saying that I am now 100%, fully into this series. That's not something that comes easily to me. I tend to steer clear of multiple-work series because a) I probably won't keep up with them as they come out because I just don't have the time or energy to commit myself to every first-in-a-series that I read, and b) I never want to dethrone Harry Potter from its pedestal (and now that I think about it, HP might be a contributing factor to why I don't read much fantasy). For the Grisha books, I am anxiously awaiting the advent of the concluding book in paperback form – I'd like to have at least one series with matching editions to pretty up my bookshelf. For someone who is offput by series, I sure own and read a lot of them. Siege and Storm is the sequel to Shadow and Bone, set in a world where magical elements can be manipulated and ultimately used as weapons as well as to better the world. With a strong minded and realistically imperfect narrator, Siege and Storm flows naturally and is what I would classify as an easy read. I mentioned before that the premise reminds me of Avatar: the Last Airbender? That still holds true – even more so now. I was astounded at how moving and relatable it was to read about the Alina apart at the seams. This seems like a common way to take the plot in the middle of a series, and it's left me hanging off the edge of my seat for more. The thing about reading from Alina's point of view is that you're constantly thinking, "Alina! Don't do that thing! You know you're not supposed to, and you know nothing good can come from it!" while also knowing that she's going to do it anyway. Like I said, stubborn. Very enjoyable and richly detailed series that fans of A:tLA and Maggie Stiefvater-like stories will enjoy.
Egghead or, You Can't Survive on Ideas Alone by Bo Burnham with drawings by Chance Bone

Frankly, an impulse buy. Even more frankly, an impulse buy that I have a hard time feeling guilty about because it was so good. Those who have heard of Bo Burnham know that he's a comedian with a raunchy twenty-something style. You might know him from YouTube or his released touring one man show "what." yet sadly not nearly enough people do. Characteristic of nearly every single one of my obsessions, Bo uses humor to get the audience's attention, then throws in a strikingly real and profound thread every now and then, bouncing the two back and forth until they combine into something incredibly accessible and meaningful. Word of warning for some: if you're not a fan of crude or profane humor, this is not the stuff for you. That being said, I can't imagine anyone who makes it past that point not enjoying or gaining something from this collection of poems. I read this, embarrassingly, while sitting in the passenger seat next to my father on the way to visit his parents – not recommended. I ended up angling the pages away from his line of sight but still responding with a deep blush every now and then. Yes, Egghead will make you blush, especially if you read it around other people. After a few pages of attempting only silent laughter, I found myself laughing as openly as I would at a live show. Seriously. There are even a few poems that I read aloud to my dad because I loved them so much, for instance:
Boston Poem
The Boston people pass the time 
by making all their stories rhyme.
Like, "Yesterday, me and my ma
watched the Sox game at the bar."
A little bit of Bostonian humor from a Bostonian. This book now sits on my coffee table, easily accessible for me to flip through whenever I feel like doing so. Anyone who may be on the fence about buying or reading this: you should. Everyone should! I want everyone to experience that Bo-Burnham-gut-wrench upon reading a poem and waiting for the punchline, only to find out that there isn't one – and then it just blows your mind how true the words ring.