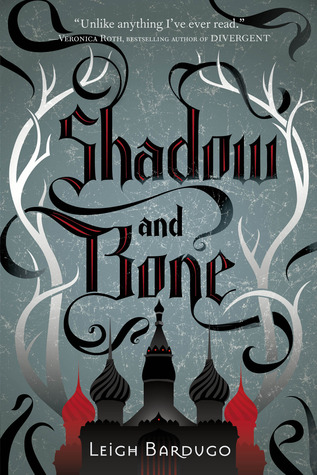 Oh boy did I need a fantasy book last week, and what a great one for me to finally get around to! Bardugo creates a nation called Ravka, ruled by a king and maintained by the Grisha, the supernaturally gifted citizens who have been educated and trained together. Alina, the narrator, is just trying to get Mal to notice her- and she succeeds, but then everything changes.
I read this one in a few days, just reading in the evenings when I was mostly finished with school work. Shadow and Bone was the sponsor of my under-eye circles in the mornings, though.
Bardugo's world in S & B is kind of like a mixture of Avatar: the Last Airbender and Narnia. You feel like anything could happen, that there are no limits to the magic Ravka contains. Ravka becomes a part of the story, and I could almost feel it guiding Mal, Alina and the Grishas, across its surfaces. It's also covered in snow, which explains why I was thinking Narnia the whole time. The Avatar similarities were apparent to me right off – each Grisha is assigned to one specific branch within the realms of magic. This means elements. This means cliques. Most of all, Alina and Aang are both unique and defy all categorization.
Oh, and Alina's a total badass. She's feisty, snarky, and can hold her own in a fight. Alina seemed so at home on her trek around Ravka. She has a very keen survival instinct, reminding me of a heroine in a Tamora Pierce novel, or maybe a struggling female in the show Firefly. (Lots of comparisons today, I guess) Truth be told, I wish I could handle myself half as well as Alina does, given some of the situations she's forced into.
One of the things I want to note is Bardugo's use of time in this novel. While some books have those sections of lull where the plot slows and the characters learn new things, this one skips over them. It's nothing huge, but after each time jump I was undeniably relieved to have been spared the boring details. Summaries are just as effective, if used in the right ways. Bardugo sure knows her way across a plotline.
I started this book wary of investing in another series. I was expecting a decent fantasy book, something to keep me entertained at least. As I got on with reading, I found that this is a beautifully written creation that has presented one of the best-written fantasy settings I've seen in a long time. The plot took twists that I was not expecting, and carried a tone of darkness fitting for a winter tale of war. This trilogy is going to stay on my shelves forever, I just know it. Onwards to the second book as soon as I make a dent in all of these others sitting around my living room! I can't wait to immerse myself in this world again.