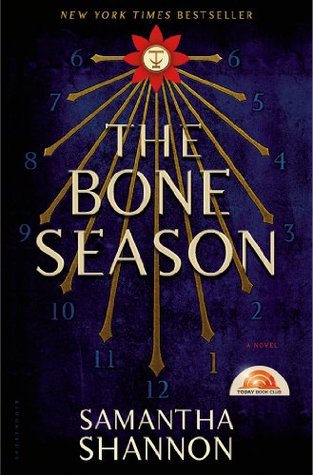 The Bone Season by Samantha Shannon:
Intriguing tale about an underground society in the future. What Samantha Shannon does with world building is incredible in this book. Though sometimes the main character irked me a bit, it was that kind of character flaw that made her seem so much more real. The cool thing about this book is the intricate world it takes place in, one I was eager to keep reading about. A really imaginative story, and I might even go in for the second one when it comes out, something I rarely do. 
3.5/5 stars
NW by Zadie Smith:
I picked this up because White Teeth is one of my favorite books in the world. I greatly admire Zadie Smith as an author and intellectual and NW fits right in with her style. Written in sections of narratives from different perspectives, she weaves several individuals together in ways I never saw coming. She explores motifs of race, time, and academia with eloquence and grace, making this novel a win for me. The theme of "roots" is a recurring one from White Teeth, and the messages Smith writes are ones that really hit home. She has a way with words that gets you thinking as you admire the turns of phrase. Overall though, I would say that I liked White Teeth better. I can see stylistic and narrative improvements in her writing within NW, but I liked the characters in White Teeth better. The books are very different from each other, but of course I enjoyed them both. 
4/5 stars
Light Boxes by Shane Jones:
 This one was on sale at my favorite bookstore, and after reading the blurb I decided to pick up the cute little volume and have a go. The story is about a town perpetually stuck in February, who is also a character in the book. The surreal mood of the book confused me a little bit because I wasn't sure what was going on with the whole February is a person and there's a hole in the sky thing. I really liked the writing though, and in parts it took on a poetic tone. I got through the whole book in one sitting, and I think I might read it again to see what I think of it now that I know what to expect. I will say though, that I'm glad that I was in a good mood when I started reading it, because it is pretty sad at the beginning. The mystery and feel of the book reminded me consistently of the Welcome to Night Vale podcast, of which I'm a fan. Come to think about it, that may be why I liked this little one so much! 
3/5 stars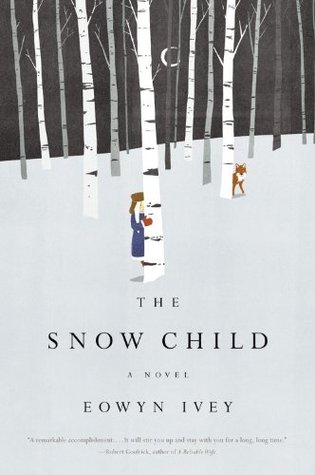 The Snow Child by Eowyn Ivey:
Wow! From the very first page I knew I was going to like this book. Mabel and her husband live in a secluded Alaskan town, having run away from the pains of their past. Though they don't have any kids of their own, one day they build a snowman together, which incites a new chapter in their lives as a little girl appears and begins visiting them. I am so glad I read this book. Everything about it is magical, even the mundanities. I found myself in awe of every character's rich development, especially that of the little girl. The descriptions of the forest and wildlife are incredible, and I absolutely fell in love with Mabel's home. It's been a while since I read something this genuinely
good
. I never struggled to keep my attention on the book, and I treasured every passage. The Snow Child is a breath of crisp morning air after being stuck in the humid summer weather. 
5/5 stars
The Girl With Glass Feet by Ali Shaw:
This was an interesting one. On an island where a creature is said to exist, in legends, that turns everything it looks at pure white, a girl finds herself with an unusual predicament – her feet are turning into glass, and that glass is creeping further and further up her body. Paired with an introverted photographer, she seeks answers and soon finds that she is not the only case the island has seen. This is another book with a "magical" feel to it. I was surprised at the intricacies of family background and baggage Shaw went into with her characters. She describes the island so darkly and so deeply that there can be no question as to whether there's a magical element at play. I was particularly fond of the child character Denver, who was spewing insights she couldn't possibly realize were remarkable to adults, because her fresh eyes could see so much clearer. The ending to this book was like a glass rod through my heart. 
3/5 stars
Let the Great World Spin by Colum McCann:
This is another that tells its story through multiple perspectives. I picked it up because the idea of a story revolving around the man who walked on a tightrope between the rooftops of the Twin Towers was too poetic and full of potential to pass up. What I found was slightly surprising, because the book spans more than just that story, including several witnesses to the event but some who didn't see the man at all. This is, I would argue, the story of a city and its intricacies, its teeming population, and its unknown connections. I actually read this right after a trip to NYC myself, so I found myself in love with the City even more than I was before I picked it up. NYC takes on a certain glowing persona that unites very different people in the strangest ways.
4/5 stars
Darkly Dreaming Dexter by Jeff Lindsay:
Alright, I am a huge fan of the show. HUGE fan. I've watched all eight seasons and I'm still aching for more, so I picked up the first novel in the series that the Showtime television series "Dexter" derived from. As with any book read after the movie or television adaptation, I kept picturing the actors from the show as Lindsay's characters. Of course, they're all fantastic, but I'm of the firm belief that every actor is interpreting and adapting the characters they play from the source, and I wanted to create my own interpretation, which I was not able to do because the show is so well done. (Not the worst complaint ever.) As for Dexter though, I found Lindsay's innovation riveting. Dexter himself is so complex that even an award-worthy performance by Michael C Hall cannot contain all of him. That being said, I did enjoy the book, probably for that reason alone. A lot of the suspense I was looking for was taken away by my already knowing the ending. I WILL pick up the second one at some point, but I'm not in a hurry to do so because I already know what happens. 
3/5 stars
Behind the Beautiful Forevers by Katherine Boo:
How can nonfiction be so well done? This award winning nonfiction gem seemed to me like a novel, written from different perspectives in a deep and understanding narrative form. Books like these leave me thinking, wow, these people have such a different life from me. They struggle and hurt and I have no idea how I could possibly help them. Katherine Boo got me to empathize with the subjects of her work in ways I don't think would be possible in any other medium. Empathy is different from sympathy, after all, and I think any other medium would pander to the sympathetic instead. I was very impressed by the author's ability to craft the story around a main event in the life of a community and turn it into something that resembles a novel, but holds more truth and therefore more despair. A really great (and somewhat quick) read.
4/5 stars